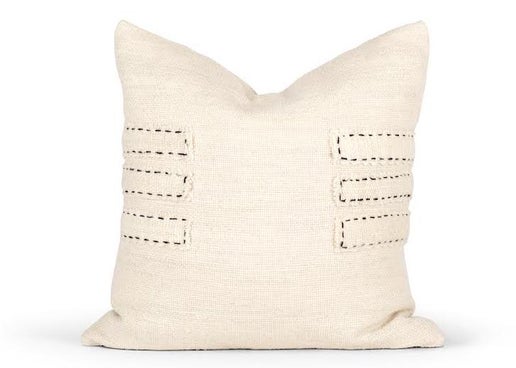 Makun Pillow | White & Black Strap
---
In stock, ready to ship

Inventory on the way
This textural, handwoven wool pillow features irregularly placed stripes of varying styles, giving it a fresh, clean, versatile feel. Makun - meaning "traditional blanket" in the native Chilean dialect. This pillow is crafted on ancient looms and utilizes natural dyes from bark, leaves, clay, and moss.
26 x 26 inches.
TREKO is a line of luxury textiles handcrafted in Chiloé, a remote island off the coast of southern Chile. Fusing elements of striking individual design with traditional weaving, the textiles are made from 100% wool and natural dyes. Founded with the desire to preserve and share the work of these master artisans, TREKO combines a contemporary aesthetic with the time honored traditions of the region and its people.
Treko means "yarn of wool." Treko was founded in 2016 by Chilean native Catalina Marin, who wanted to share, as well as preserve, the textile traditions of Chiloé, one of the most fascinating areas of the South of Chile.   With a mission to constantly create the most unique and high-quality woolen pieces, TREKO was founded in order to rescue the Chilean textile traditions of the region, as well as introduce the products of these master artisans to designers and retailers for the first time.  The tradition of weaving and knitting has evolved since the arrival of the Spanish to the island, when the importance of these textiles were such that they became an important source of income for the island.  With months of harsh weather, these techniques have been handed down from generation to generation with families specializing in distinct ways to weave and spin the wool in order to make totally individual pieces.