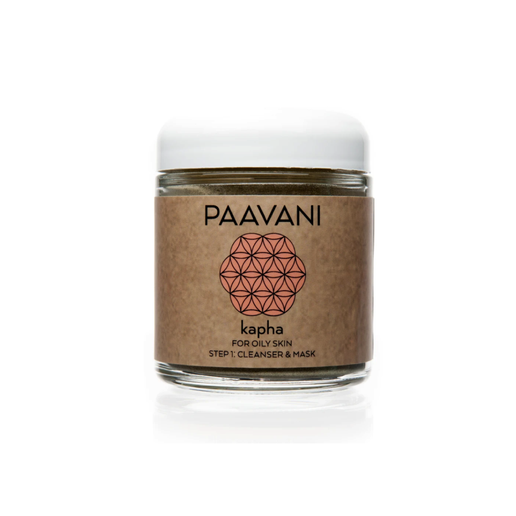 Kapha Cleanser & Mask
---
Low stock - 5 items left

Inventory on the way
For oily skin, this detoxifying Cleanser & Mask combines French Green Clay with herbs of Turmeric, Bibhitaki & Tulsi to reduce excess oil, remove dead skin cells & tighten pores. Enjoy refreshed, luminous skin! 
KEY INGREDIENTS:
French Green Clay
French Green Clay is uniquely detoxifying because it has an ionic charge. This charge acts like a magnet to extract toxins & remove them from the skin & body. It reduces excess oil & unclogs pores, while simultaneously softening & firming the skin. French Green Clay aids in the optimal function of oil glands & also boosts blood circulation while removing dead skin cells. It has also been known to be effective at reducing allergic reactions which have manifested on the skin.
Turmeric
Where to begin with this magical herb? Turmeric may be the most beneficial herb on the planet, providing a wide array of healing properties, including its benefits for the skin. It is considered the "Golden Goddess" of Ayurveda, & has been used for centuries for its ability to leave the skin feeling clean & radiant. Turmeric contains fatty acids & phytosterols which reduce excess oil, while the compound curcumin reduces inflammation, acne & even diminishes stretch marks. Turmeric has exfoliating properties which make the skin feel supple & it also helps prevent wrinkles & melanin from forming.
Bibhitaki
This Indian Superfruit has an astringent property which clears congestion & rejuvenates the skin. It can also protect the skin from acne-causing bacteria while simultaneously decreasing inflammation. 
Tulsi
Highly revered in India for over 5,000 years, tulsi, also known as 'holy basil', is an adaptogen, meaning it supports healthy stress response & improves the skin's natural detoxification process. Its natural oils clarify the skin & unclog pores, aiding in acne & blemish prevention. Tulsi works as an anti-inflammatory & anti-bacterial making it a perfect remedy to banish whiteheads & blackheads.